Automate call logs and data entry
Connect RingCentral to Clio or Zoho for increased call efficiency and insights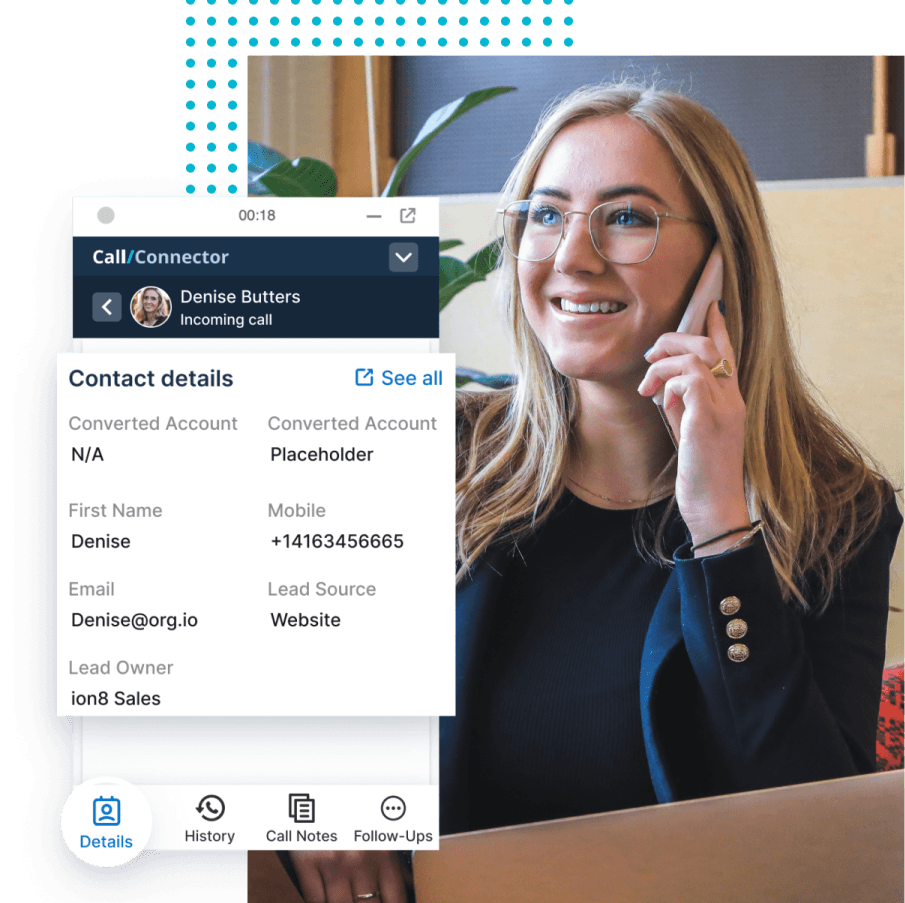 Reduce revenue leakage
Call Connector auto-logs RingCentral calls made on all devices, including desk phones.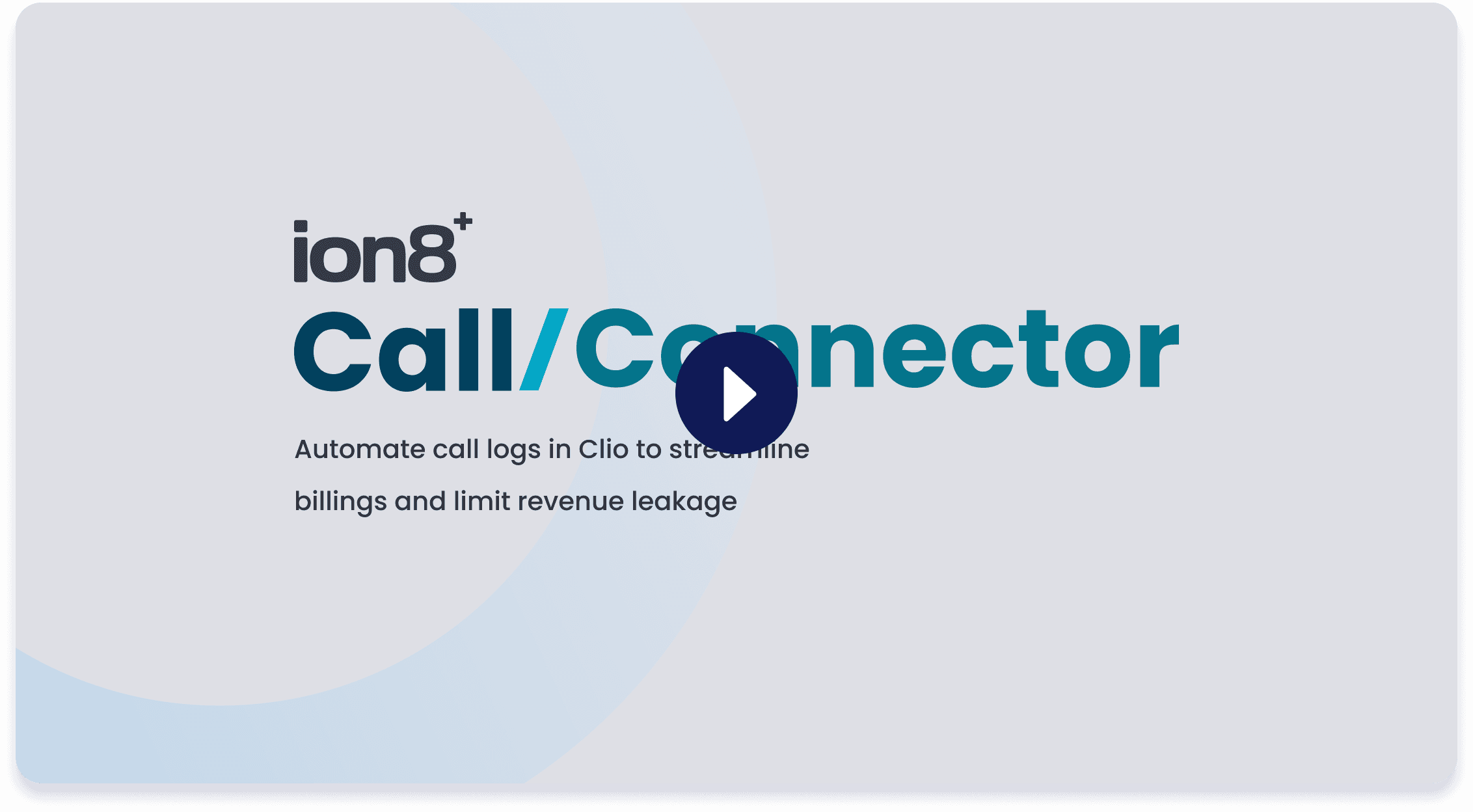 AI-powered call notes have you covered
Take your own notes during calls, or reference the auto-generated AI-powered summary. All notes from previous calls are viewable while you're in Call Connector, so you can always have the facts at your fingertips.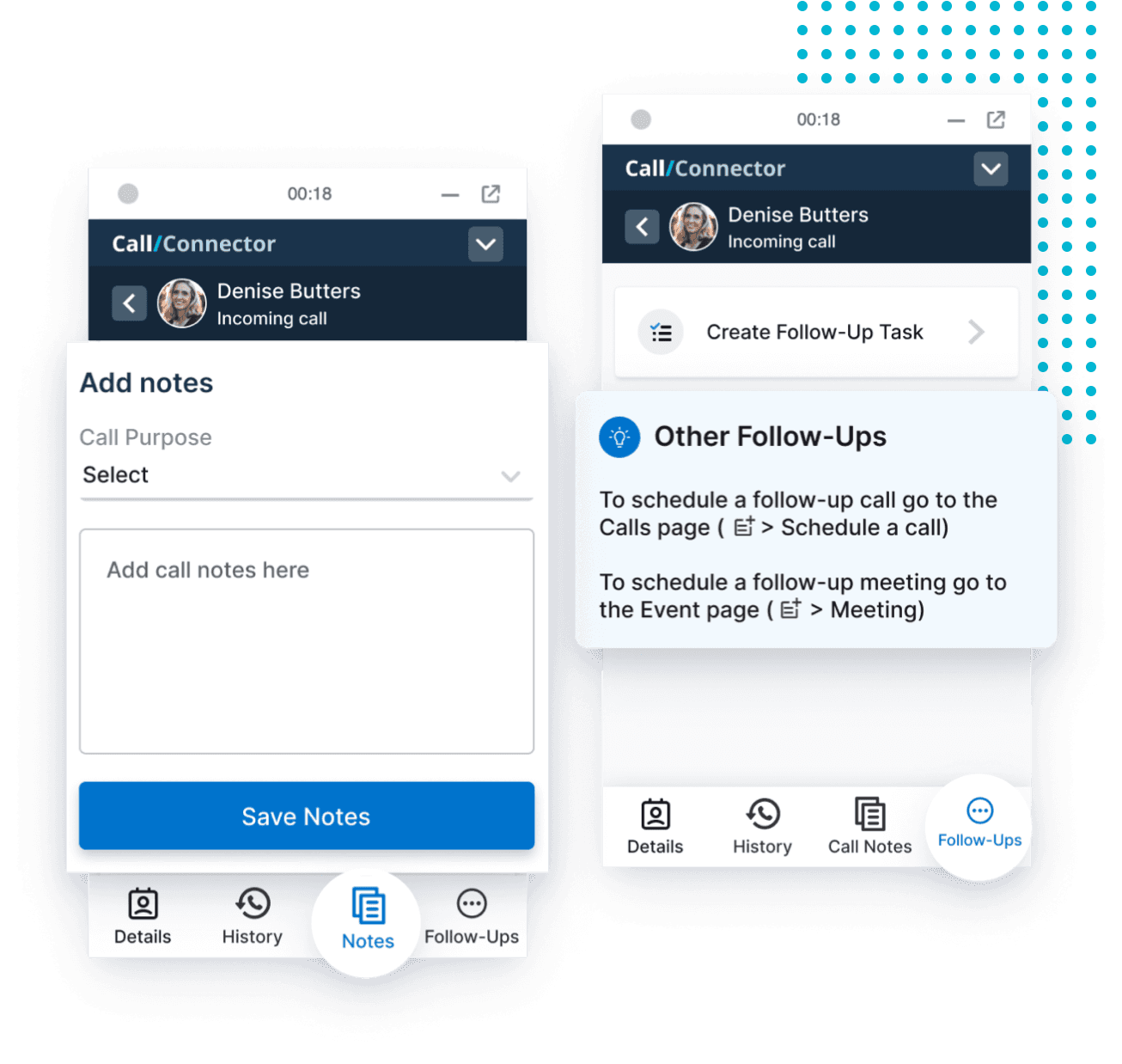 Admin dashboard
Our dashboard gives you a centralized place to enable call, text, and fax logging for your RingCentral users, and view activity logs.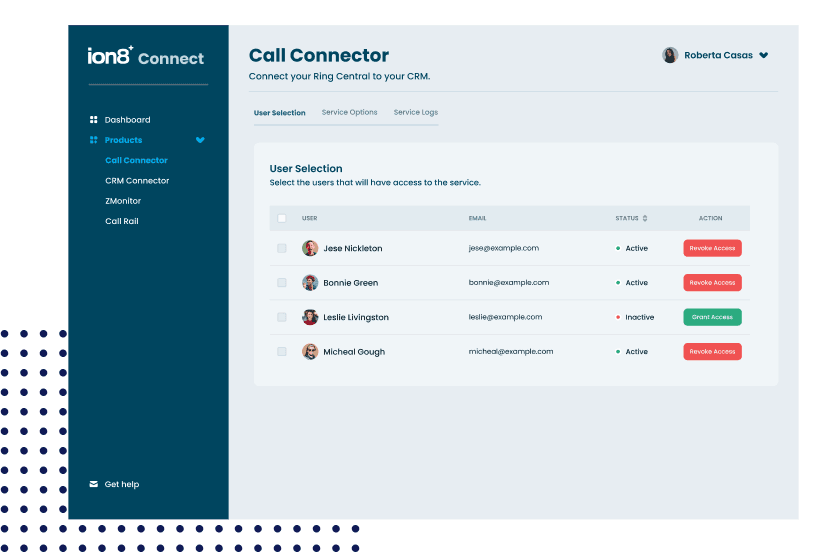 Never miss
logging a call
Calls, texts, and faxes are automatically logged from RingCentral to your CRM - even calls from contacts that you haven't yet saved to your CRM. This includes calls made from desk phones, and the RingCentral desktop and mobile apps.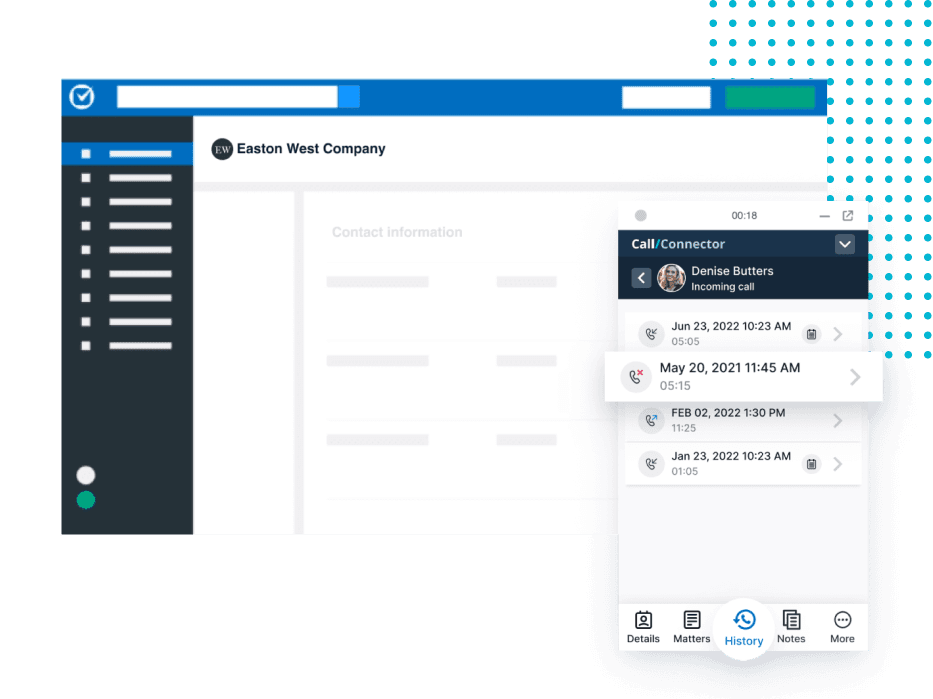 ENHANCE YOUR WORKFLOW
Call Connector connects Clio or Zoho to RingCentral
Plans & pricing
Works on all devices (desk phones, mobile, virtual).
No contracts, cancel anytime.
Free
Call Connector CRM widget
CRM logging for voice calls
Phone number harmonization
AI-generated call summaries
Dual delivery of call/SMS logs to Clio and Zoho
Way Better
Call Connector CRM widget
CRM logging for voice calls
Phone number harmonization
AI-generated call summaries
Dual delivery of call/SMS logs to Clio and Zoho
Frequently asked questions
Call Connector can be installed only in Chromium-based browsers that support extensions, such as Google Chrome and Microsoft Edge.
Not at this time. Support for the Safari browser is on our development roadmap. In the meantime, you can install and use Call Connector in a Chromium-based browser.
In addition to a Call Connector license, you need:
RingCentral MVP licensed extension.
Clio Manage license and/or Zoho CRM license.
Call Connector works in both Clio Manage and Zoho CRM.
When you subscribe to Call Connector, we send you a welcome email with a download link.
In most cases, new accounts are activated within 5 to 10 minutes after subscribing, however, all new accounts will be active within 1 business day. If you have subscribed but didn't get the welcome email with a link to download the app, contact appsupport@ion8.net.
If your browser syncs settings across your devices, you won't need to redownload the app. Contact appsupport@ion8.net if you need help.
Yes! Calls from existing Contact numbers are automatically logged in the Activities and Communications sections in Clio.
When you add a note to a call, you can choose to add it to an existing matter right from the call pop. Alternatively, auto-logged calls are shown in both the Activities and Communications sections in Clio. From either section, the call record can be manually assigned to a matter.
Yes, they are. As long as the Clio tab is open on your computer and you're signed into Call Connector, then all calls through your RingCentral number or extension are automatically logged in Clio.
1. In the RingCentral service portal, log in with your credentials.
2. Go to Settings > Outbound Calls/Faxes > Caller ID.
3. Click the Edit button for the RingOut Number.
4. Choose the number you want to use for your outbound caller ID, and then click Done > Save.
Customized options for Call Connector aren't currently available. However, feature requests are welcome and can be sent to appsupport@ion8.net.
1. Disable the RingCentral

Extension

:

1. Click the Extensions button (puzzle piece icon) beside the address bar in your browser
2. Find the extension,

RingCentral for Google

, and click the

More Actions

button.
3. Select the option for

Manage Extension

.
4. Toggle the extension to

Off

.

2. Sign out of the desktop app

1. Open the RingCentral desktop app.
2. Click the profile icon in the upper-left corner of the app and select

Sign Out

.
Create an account in ion8 Connect to manage info related to your Call Connector subscription.
The email address you used to subscribe to Call Connector must be the same email address you used to sign into Clio. If it isn't, contact appsupport@ion8.net to give us the email address you used for logging into Clio.

Did you receive the welcome email confirming your subscription to Call Connector was enabled? Call Connector works only for active subscriptions. Contact appsupport@ion8.net to confirm the status of your subscription.

Make sure that you sign in to Call Connector using your RingCentral credentials, and authorize access to Clio.
After you download and install Call Connector for your browser, go to any page in Clio, and you'll see Call Connector in the bottom right corner of your browser window.
If you installed Call Connector while you were in Clio, then refresh your browser and you'll see Call Connector.

Click the Call Connector app header to expand or minimize the app.


Click Call Connector to maximize it.

Sign in.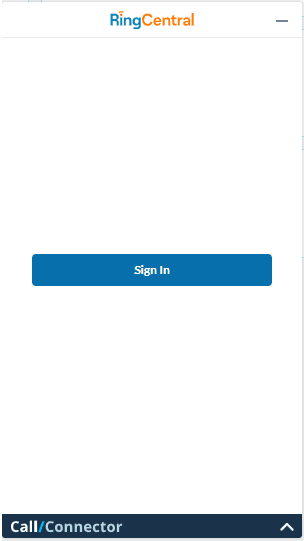 Start making and taking calls.
Calls aren't automatically logged to a matter unless you select it from the call pop.

Make sure that the format for phone numbers saved in Clio is +1##########. We can help you with this, as we've developed a tool to reformat phone numbers in Clio to this standard. Contact appsupport@ion8.net for more information.
We're happy to help, and you can email or phone us at: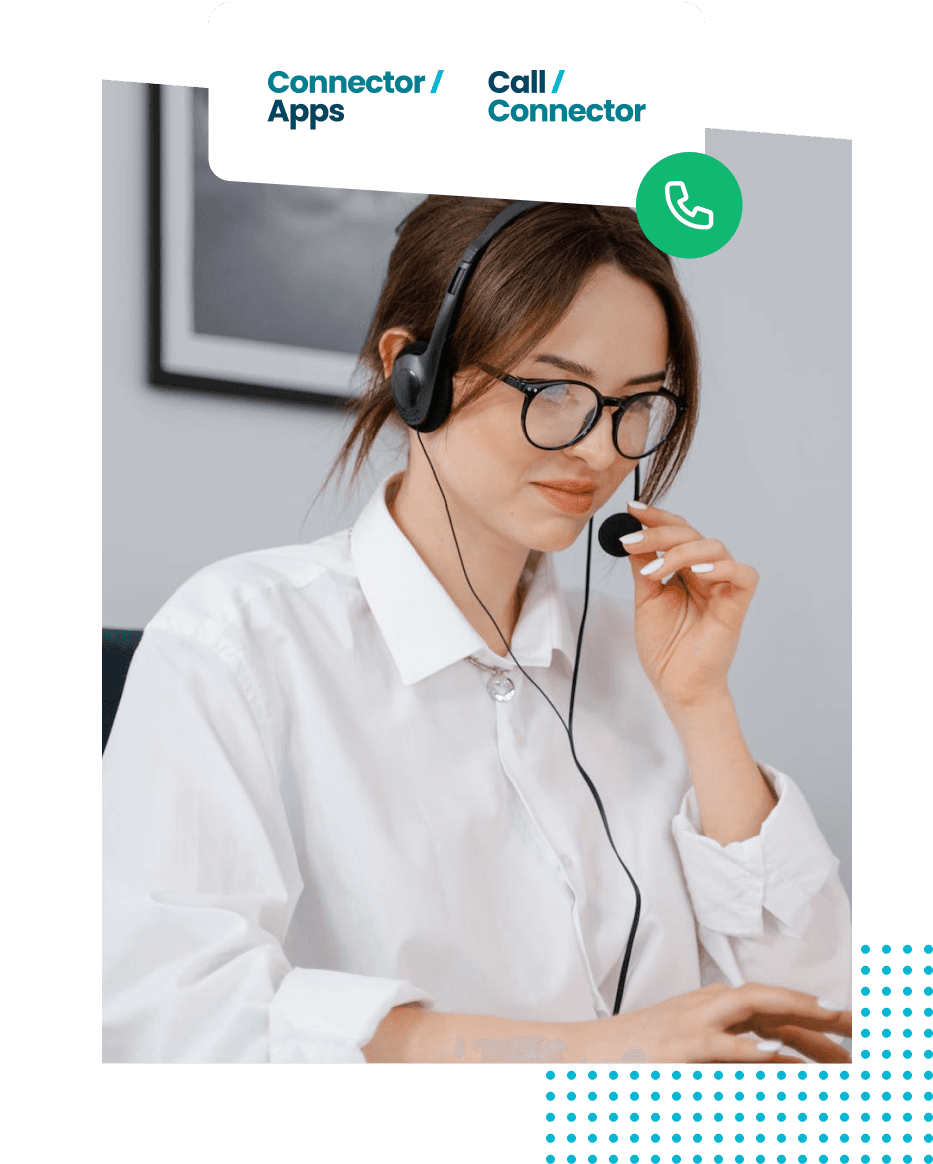 Need app support?
ion8 app support is open Mon-Friday from 8:00 am-5:00 pm EST. If calling after hours, please leave a message and an ion8 app support representative will return your call within 24 business hours.